How to Choose a Car Paint Gun
It may seem like choosing a paint gun for cars is an easy task. After all, as long as it's designed for cars, it's a safe bet, right?
While that's partially true, much more goes into choosing the right paint gun for the job. Here are some things to consider when purchasing an automotive paint gun.
Types of Paint Guns
There are two main types of paint guns: HVLP and LVLP. Once you narrow down which type of gun you need, you can pay attention to other factors such as feed type and nozzle size.
HVLP, which stands for "high volume low pressure," are the most commonly used spray guns today. They are highly efficient and offer a controlled spray with little overspray. Some HVLP guns are powerful enough that they can be used without an air compressor, while others require a large air compressor to operate. Here at Auto Body Toolmart, we mainly sell HVLP guns for the professional market.
LVLP spray guns, which stands for "low volume low pressure," use less air volume than HVLP paint guns. These guns can be used with smaller air compressors and have fewer air requirements than HVLP spray guns.
Other Things to Consider
While deciding between an HVLP and LVLP is arguably the biggest thing you'll want to determine, there are a couple other factors you'll want to consider when choosing a paint gun.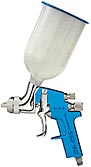 Feed - There are two types of feeds for spray guns: gravity feed and conventional feed. Gravity feed paint guns use less air pressure and are more efficient, but are more expensive than conventional paint guns. Conventional guns, which are also called "siphon paint guns", are cheaper and carry more paint but are bulkier.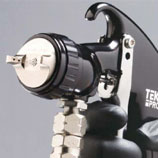 Nozzle size - Paint gun tip size depends on the type of automotive paint you use. The thicker the paint, the larger the nozzle you will need. Larger nozzles are ideal for primer, while smaller nozzles are ideal for for specialized paints like single stage and metallics, as well as clearcoats.
Automotive Paint Gun Brands
There are a number of paint gun brands out there, but here are just a few that we carry at Auto Body Toolmart.
Paint Gun Accessories
Air compressors are necessary for most spray guns. The larger the compressor, the more efficient it will be.
Air turbines are sometimes used to generate air for HVLP spray guns in the absence of an air compressor. HVLP turbine paint gun applications are more affordable than those that utilize air compressors.
Various paint gun tip sizes and nozzles are necessary if you plan on spraying a variety of paint products.
Replacement cups are essential as well.
Air hoses are used in conjunction with air compressors. Pay attention to specifications such as length and pressure levels when selecting an air hose for your compressor and paint gun.
We also sell paint gun maintenance kits that include everything you need to keep your gun clean and properly functioning.
Next Steps: Choosing Your Automotive Paint Gun
When it comes to paint guns, there is no singular ideal solution for every body shop. If you're looking for a highly efficient spray gun, a HVLP paint gun may be your best bet. If you're looking for a spray gun that will still deliver performance with less air requirements, a LVLP may work best for you. As with any body shop equipment, it's important to be mindful of your workload, expectations and clientele when choosing a spray gun for your shop.
When you're ready to buy a paint gun, head over to Auto Body Toolmart and explore our wide selection. Our knowledgeable staff is ready to help you find one that will give you excellent results. Shop our paint guns and painting supplies today and please contact us with any questions you may have.