Types of Automotive Paint
Unlike other types of paint, automotive paint is specifically designed to spray -- and stay -- on cars. Paint that's intended for any other purpose, like a house or a bedroom, will only end in disaster if applied to a vehicle.
Automotive paint is made of three components: a pigment, which gives the paint its color; a thinner, which levels out the consistency of the paint; and a binder to bind the pigment and thinner.
However, shopping for automotive paint oftentimes can be a daunting task. There are different types for different applications. What's the difference between waterborne and traditional solvent paint? How about single vs two-stage paint systems? Should I use a primer for car painting?
Knowing what to look for in an auto paint will help you find the right match for your needs. Before you order auto paint and end up with undesired results, read on to for more information on the differences between types of automotive paint.

Waterborne vs Solvent Paint
There are two types of auto paint: Waterborne and solventborne. While both types of paint may be used on cars, the difference lies in the material from which they're made.
Solventborne paints are the traditional auto paints that have been used for many years. They are primarily comprised of a solvent base such as lacquer, urethane or enamel. These paints contain a large amount of VOCs (volatile organic compounds). Because of health and environmental concerns, waterborne paints have become a more popular option than solvent based paints.
Waterborne paints, on the other hand, are primarily comprised of water and contain just around 10 percent solvent. Due to stricter environmental regulations and growing health concerns over solvent borne paints, waterborne paint has become increasingly popular amongst shop owners.
Waterborne vs solventborne: Which is better?
Although some shops have voiced concern over whether or not waterborne paint adheres as well as traditional solvent based paint, modern technology has allowed auto paint manufacturers to produce high-performance water-based paints. For this reason, more and more shops are making the switch to waterborne in order to meet stringent environmental regulations and keep their employees' best interests at heart.
Single Stage vs Two Stage Paint
Now that you understand the difference between the types of materials in auto paint, there are two different ways to apply auto paint.
• Single stage paint is a type of all-in-one paint solution that includes basecoat and clearcoat in one formula. This type of paint formula was most popular in the 1980s before newer technologies began to emerge.
• Two-stage or dual stage paint, on the other hand, is a type of auto paint that is applied in two phases. The first phase, the basecoat, is applied after the primer, while the clearcoat is applied after the basecoat dries.
While two-stage paint takes longer to apply and comes with a higher upfront cost than single-stage paint, it tends to offer a longer lasting finish.
What about primer?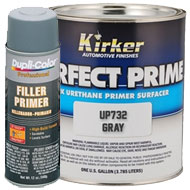 No matter if it's single-stage or two-stage paint, a primer must always be used first in order to achieve a flawless finish. Since the purpose of primer is to fill in and level any flaws in the vehicle prior to painting, it's imperative to not skip this important step in the painting process.
Basecoat Colors
Basecoat paint falls into three color categories: solids, metallic and pearlescent.

Solid basecoats are the most common type of auto paint. They can be found on most cars throughout the world.

Metallic basecoats are less common than solids but can be found on many sports cars and custom painted vehicles.

Pearlescent basecoats are reserved for flashy show vehicles.
Shopping for Automotive Paint
Now that you have a better understanding of all the different automotive paint types, it's time to narrow them down even further to make a wise purchase.
Here are a few other things you should keep in mind before shopping for auto paint:
Color match - Unless you plan on giving the car a complete makeover, you'll want to make sure that the paint is factory matched to the vehicle. Look for the color code on the driver's side door jamb and contact us to order factory color matched paint.
Compliance - Pay attention to any applicable compliance rules and regulations, including OSHA and EPA standards. Make sure that the paint you purchase is compliant with such standards.
Preparation - A well-prepped car won't just improve the quality of the paint job, but it will also save you considerable time, money and effort. Make sure you have all the necessary supplies on hand beforehand, including a pneumatic powered sander, sandpaper, masking tape, an air compressor and a paint gun. You'll also want to keep the area clean throughout the painting process.
For all your auto painting needs, there's no better place to shop than Auto Body Toolmart. We're proud distributors of popular brands such as Sherwin-Williams, Kirker, Evercoat and more. Shop our selection of paint and primer today.