Automotive Paint Booth & Spray Booth Headquarters!
Our automotive paint booths & spray booths are used by thousands of auto body shops across the United States.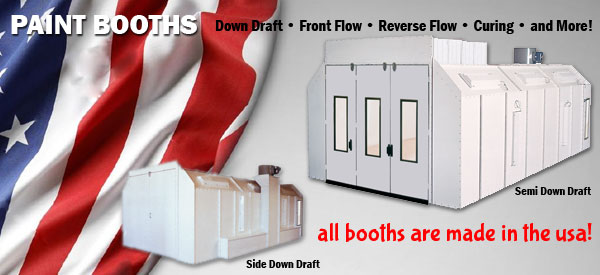 Speak to One of Our Specialists Today! 800-382-1200
8:30am - 5:00pm CST, Monday - Friday
Benefits of Col-Met Paint Booths
Auto Body Toolmart is Col-Met's largest distributor, selling more American made Col-Met automotive paint booths than anyone else.
We only believe in supplying the highest quality booths to shop owners. A Col-Met paint booth from Auto Body Toolmart offers collision repair shops and service centers a number of advantages, including:
Universal Design
Col-Met paint booths are designed to fit any painting requirements, whether you are a high production shop, a shop that specializes in custom restorations or a shop that works on anything from motorcycles to semis.
Precision-made & Affordable
Our spray booths are made using the highest quality standards and latest technology, yet are for purchase at an unbeatable price point.
Easy to Assemble
With nut and bolt construction, all auto paint booths feature holes that are pre-punched for exact alignment and easy assembly to save you time and hassle. Disassembly is equally as easy should you ever need to move your booth. No clamping or drilling required! You can't do this with booths that use zip screws for assembly.
Learn more about how a Col-Met booth can help improve your shop's productivity.
Top Paint & Spray Booths for Sale
These are just some of the automotive paint booths for sale at Auto Body Toolmart. We carry heated models, curing models and also offer fire suppression systems.
From auto body paint booths to prep stations, all of our spray booths provide a safe and healthy work environment for you and your employees. Regardless of the type you are interested in, all of our booths meet NFPA 33 & OSHA 1910 guidelines.
America's Best Paint Booth Deals Just Got Better!
Don't spend more to get less with your automotive paint booth. At Auto Body Toolmart, we believe that powerful features should come standard with each booth. These are just a few of the cutting-edge innovations you can expect to experience when you order a spray booth from us:
Digital Computerized Manufacturing

This process ensures that all of our auto spray booths meet exacting tolerances for easy assembly so you can spend less time putting it together and more time painting! Panels align correctly, window holes are computer cut, bolt holes are aligned and punched to give you peace of mind during the assembly process.

Fast Delivery Paint Booth Program

No more waiting! Other paint booth companies can make you wait up to 4 months or more. Not us, we'll make sure you receive yours in a timely fashion.

USA Made Paint Booths

All components of our booths are proudly made in the USA. We do not accept cheap import imitation booths!

Choice of Finishes

Choose between our standard galvanized paint booth finish or our optional white powder coating. Powder coating can increase lighting by up to 50%.

All Meet NFPA 33 and OSHA 1910 Guidelines

Check your local codes for local permit requirements.

Air-Tight, 18-Gauge Galvanized Steel Construction

All auto paint booths are made with the highest quality 18-gauge steel, galvanized to prevent rust and corrosion. Optional white powder coating available.

Gabled Roof Design for Better Airflow and Lighting

Many companies are cutting costs with a "flat top" paint booth design, which can lead to poor-quality results. Our gabled roofs prevent stagnant air pockets to increase your airflow, efficiency and productivity to give you superior finished results. This design also increases light exposure, putting the lighting where you need it the most: on the vehicle.

48" 4-Tube Inside Access Fluorescent Light Fixtures with Clear Tempered Glass

Your lighting problems are done. Four-tube, inside access, industrial grade light fixtures come standard on all of our booths! Inside access fixtures make bulb changes quicker and easier. Each of our automotive paint booths has 10 fixtures—that's 40 bulbs—and our truck booths have even more. Some other companies cut costs by using 2-tube or inferior "hardware store" fixtures, but not Auto Body Toolmart!

High Efficiency Air Filters Throughout

No costly or hard-to-find blankets! Each auto body paint booth uses inexpensive 20" x 20" intake and blanket exhaust filters. Your first set of filters is included with every booth.

7.5 HP Tubeaxial Fans and ODP/TEFC Motors

Tubeaxial fans of up to 7.5 HP (depending on model) and ODP motors are standard equipment on all of our spray booths.

Panic Safety Latches on All Paint Booth Doors

Each auto body spray booth comes standard with the highest quality panic safety latches on front and side doors. An optional electrical kit interlocks doors with exhaust fan and spray equipment.
Paint Booths & Accessories
View our complete line of Spray Booths, Prep Stations, Exhaust Walls & more
View & Compare the Features of our Automotive Spray Booths
View the benefits of our optional Paint Booth Powder Coating
While quality spray booths are a customer favorite, we offer so many more products to stock your shop. Paint booth accessories, exhaust fans, filters, lifts, compressors and power tools are just a few of the products you'll find at Auto Body Toolmart.
Financing Available
Any Automotive Paint Booth - Lease for $50/month for the first 3 months, with approved credit. See paint booth financing details.
Get More Information
Call
Speak to one of our specialists 800-382-1200
8:30am - 5:00pm CST, Monday - Friday
Watch Our Video
Request More Info