How to Open a Locked Car
Getting locked out of your car is arguably one of the most frustrating experiences ever. But this situation can be more than frustrating -- it can be dangerous, especially if you've accidentally locked your child or pet inside the vehicle.
If you find yourself locked out of your car, don't panic. Getting into a locked car can be relatively simple if you have the proper tools on hand.
What to do when you're locked out of your car
Step 1: Check all the locks. Make sure you are indeed locked out before attempting to unlock your car another way.
Step 2: Locate a spare key.
You should always have a spare key on hand and readily accessible. Unfortunately, spare keys are oftentimes nowhere to be found when they're needed. Which brings us to step three...
Step 3: Use automotive locksmith tools to unlock the vehicle.
These are simple, inexpensive tools used frequently by police and fire departments, locksmiths, fleet service managers and parking attendants. The good news is that you don't have to be a professional to use professional grade car opening tools. Automotive locksmith tools are wise purchases for anyone with a vehicle and well worth the investment.
There are several types of car opening tools tools available with varying capabilities and features. The two main types are wedge lockout tools and long reach tools. Use them together to pry open the car door and unlock it.
We carry auto lockout tools from a variety of reputable manufacturers, including Steck, Access Tools, OTC and Equalizer. It's important that you only use professional quality lockout tools to access a locked vehicle. Do not attempt to unlock your car with a coat hanger or other household item, as you can easily damage to your vehicle.
Getting into a car with automotive locksmith tools
Start with a wedge tool like the Steck Plastic Wedge (or an Easy Wedge) and insert it into the corner of the door frame. You want to pry out the door frame to see where the weather stripping contacts the body. Carefully create a wedge using the heel of your hand until there is a gap for the long reach tool.
Insert the long reach tool into the gap that you have created in step 1.
Use the tip of the tool to activate the electric or sliding lock button, or the door opening handle.
TIP: If you are having trouble seeing the lock mechanism, you can use the long reach tool to position the inside rearview mirror to improve your visibility.
How to open a locked car at night
What happens when you're locked out of your car at night when visibility is limited? Your best bet is to use a glow-in-the-dark lockout tool, like the BigEasy Glo. This handy unit works just as well for cars with tinted windows, too.
Alternatively, you can use a night light like the BigEasy Night Light. It's a 6" suction cup with six LEDs that can emit a 1-foot diameter beam up to 4 feet away.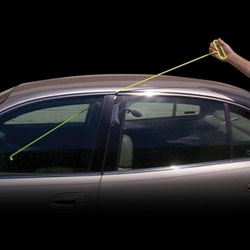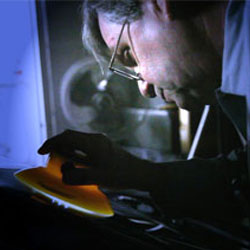 Calling a professional to unlock your car
If you don't have any tools to unlock cars on hand, you'll have no choice but to call a professional to unlock your car. You can call either an automotive locksmith or a roadside service like AAA. Depending on who you call, you may have to pay a small fee to unlock your vehicle -- contact your service professional for pricing details.
Preventing a car lockout
If you've ever been locked out of your car, the best thing you can do is learn from the situation and prevent it from happening again. Here are some things you can do to avoid headaches down the road:
Ensure you have access to a spare key (or two). Keep a spare in your house and another on your vehicle. Be sure to hide your spare in a secure location, such as a magnetic lockbox under your vehicle.
Invest in the proper car opening tools. Purchase a wedge tool and a long reach tool to resolve car lockouts without having to call a professional.
Be mindful of where you place your keys. When exiting your vehicle, always make sure you place your keys in a safe place, like in your purse, pocket or briefcase. Be consistent and try to place your keys in the same location. This will make it harder to lock your keys in your car.