iDEAL Open Face Paint Booth 3 phase 230 Volt
Product Cost
Duct Kit (Out of Stock)
$0.00
LED Lighting Upgrade Kit
$0.00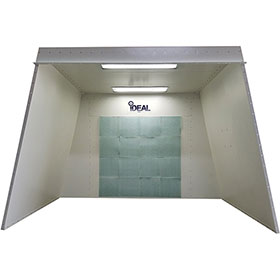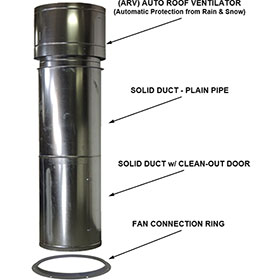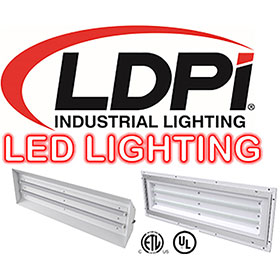 FAST SHIPPING - usually ships within 24-48 hours!
FREE SHIPPING in the contiguous 48 United States!
Durable bright white powder coated finish.
Deluxe control panel included.
Heavy duty Precision punched 18 gauge panels

Optimal air flow w/CFM 7,983 @ .5 Static Pressure

Unique 'A-Frame' commercial grade booth design

Inside opening dimensions: 13'W X 8'-6" H x7'-6"D

Convenient 5/16" bolt & nut assembly

All assembly hardware, manometer & sealant included

UL listed 24" Dayton tube-axial exhaust fan w/spark resistant fan blades

Nema rated 2HP-3 PH 230/460VAC-60HZ Motor Standard

Premium AFC Exhaust filters

Superior lighting with (2EA) LDPI Industrial Light Fixtures w/inside access hinged glass door

True 'daylight color' w/GE T8 48" Florescent lamps 32w 50000K, 4 lamp

Meets and/or exceeds all applicable OSHA & NFPA 33 regulations

Easy to install, operate & Maintain
Inside Dimensions: 13'W X 8-6"H X 7'-6"D
Outside Dimensions:13′-4″W X 8'-10″H X 10'-2″D
Fan / Motor: (1ea) – 24″ Tube Axial Fan
2HP-3PH-230/460VAC-60HZ
Non-Spark, NEMA Rated
CFM: 7,983 @ .5 Static Pressure
Light Fixtures:(2ea) 48" 32W, T8 / 4 Bulb Light Fixtures
UL & ETL Listed Cls1, Div2 – Groups A, B, C & D
Lamps :(8ea) T8 Florescent, 32W, 5000K – 48"L

Options
1815976 - 8′ Exhaust Duct Kit (25″ Diameter)
1816033 - LED Lighting Upgrade Kit for iDEAL Paint Mixing Room and Open Face Booth
FREE truck freight shipping in the Contiguous 48 United States. Others will be contacted with actual shipping charges before order is processed. Forklift required at time of delivery to remove booth from delivery truck.
Get more information on our Paint Booths
Call Toll Free to speak to a Paint Booth Specialist: (800) 382-1200
E-Mail: sales@abtm.com