How to Choose Paint Booth Lighting for Your Spray Booth
When painting a vehicle, it's incredibly important to choose a high-quality paint booth that can filter contaminants, improve shop safety and help you attain a quality finish. But achieving high-quality finishes doesn't just start and end with your booth. You also need quality spray booth lighting to help you see clearly to get a smooth, even finish and color.
We'll highlight what you should look for when shopping for paint booth light fixtures and make a few recommendations as to what kinds of lights yield the best results.
Paint Booth Lighting Factors
There are a few things you need to consider when shopping for lighting for your spray booth to ensure you get the results you want.

Visual effect - Your lighting should allow you to properly see paint color without any sort of tinting effects. Choose white, full spectrum lighting that mimics the effects of natural lighting to achieve the most accurate color possible. You'll also want to make sure your lighting offers an ample amount of brightness to help you see texture clearly -- lighting that's too dim or bright will inhibit your ability to notice details.
Consistency - You want your paint booth lights to offer consistent lighting throughout the entire interior. If your booth has uneven lighting, it will show through shadows and hard-to-see areas -- and the finished product.
Placement - It's crucial to be mindful of placement of your light fixtures. The fixtures should be mounted in specific areas to provide optimal light coverage without any dark areas. You should have good lighting on all areas of the vehicle that is being painted.
Types of Paint Booth Light Bulbs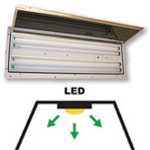 LED
Paint booth LED lighting makes an excellent choice for body shop booths for a number of reasons. Not only do they offer brilliant, directional light emission, but they also require minimal maintenance and reduce energy consumption. In addition, an LED paint booth light offers a fairly long lifespan to help you save time and money in the long run.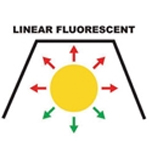 Fluorescent
Like LED lighting, fluorescent paint booth lighting offers reduced energy costs and increased efficiency. They are the most common types of lighting found in booths thanks to their high efficiency, low heat output and extremely long lifespan. One main difference is that fluorescent lights are not directional, meaning they offer 360-degree lighting. In some cases, this is ideal, but if you're looking to install lights that illuminate a specific area in your booth, you may want to go with an LED light source.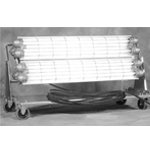 Explosion-proof lighting
Lights can be dangerous if they get too hot and come in contact with flammable solvents, which are abundant in paint booths. That's why explosion-proof paint booth lighting is recommended for use in hazardous environments and laboratory applications.
Both LED and fluorescent lights are available in explosion-proof configurations.
Types of Paint Booth Lighting Fixtures
Now that you're familiar with the various types of light bulbs, it's time to explore the different types of paint booth lighting fixtures. The best way to select paint booth light fixtures for your shop is to first determine which areas of the booth demand better lighting. Is it all over? Just one specific area? Knowing this will help you get an idea of the types of spray booth lighting fixtures to buy.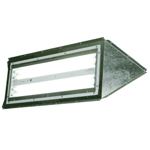 Corner lights
Corner lights are easy to install and offer excellent all-around lighting coverage. They can be installed in any 90-degree corner, making corner lights versatile for your shop's needs. Whether you need to illuminate one specific area or you want better all-over lighting, positioning your paint booth lights in corners is a great way to improve visibility while painting.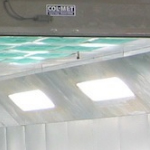 Ceiling
Ceiling lights are fairly common in paint booths thanks to their ability to distribute lighting coverage from above. However, they can fail to provide adequate coverage, as their overhead position can result in shadows in certain areas, such as the lower part of vehicles.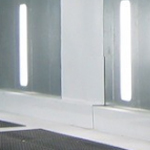 Wall
Wall lights are also popular paint booth additions. Like ceiling lights, they're mounted flush against a wall so that they're well out of the way. However, also like ceiling lights, they can cause some blind spots since they only illuminate the front, back and sides of the vehicle.
Create Your Lighting Design
For optimal lighting, it's best to diversify your types of lights by choosing a mixture of both LED paint booth lights and fluorescent options, as well as a variety of light fixtures to ensure you get the best results possible. Fluorescent lights will enable you to see better overall, while LED lights can highlight specific areas on vehicles that demand attention. Explosion-proof lights are ideal since they help to improve the safety of your employees.
In the market for new spray booth accessories? Browse our selection of paint booth lighting options to shop explosion proof lights, LED and fluorescent lamps, and more.